Feedback In Action
The double decker buses were bought in as a result of student's feedback and particularly those who regularly travel between campuses. We are happy to take on student's feedback and make the bus journey a more pleasant experience.



The capacity of bus seats has been increased as more student and staff members continue to travel between campuses. During peak times the old buses used to get over crammed, however this will not be the case anymore as the vehicle seats 98 people (45 top deck and 29 bottom deck) with room for 24 standing!
The seats are very comfortable and there is more leg room compared to the old buses. The bus is warm and cosy as it has heated seats which are beneficial in the winter.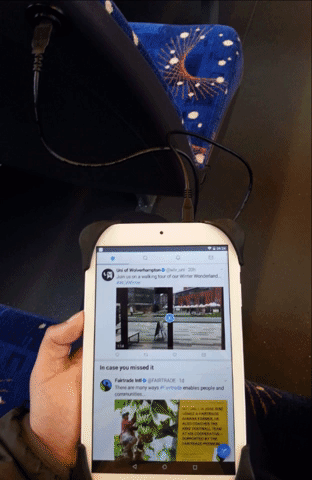 Some of main new features taken on board are USB ports and WIFI. Waking up in the morning to low battery on your mobile phone or tablet can be annoying, although now there is no need to worry as you can charge your device during your journey! WIFI will keep you entertained during and you can access emails on the go, read presentations before lectures, prepare notes, read the news, etc.
We hope the students and staff enjoy their bus journey!